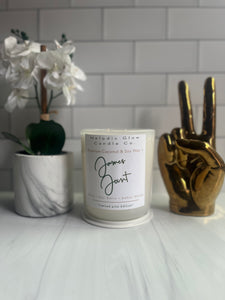 A melodic glow inspired free spirited vibe inspired by the one and only bad gal herself! A blend of pear nectar and dark red Goji berries intermingle with smokey rich woods and  hemp guaranteed to take you on a trip. Inspired to set the vibe for all of my 4/20 friendly glow friends.
Top: Goji Berry, Black Pepper, Pear Nectar
Middle: Charred Hemp Leaves, Mirabelle Plum, White Oleander 
Base: Amber Woods, Patchouli, Vetiver
Burn Time: Approx. 20-30 Hours
Wax: Premium Coconut & Soy Wax Blend. Wax blend is formulated for a clean burn.
Wick: Double cotton flat braid wick 
Phthalate Free Fragrances
Reusable Containers
Hand poured in small quantities