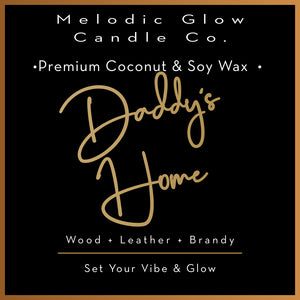 A melodic glow inspired by the one and only King of R&B Usher. A deep, sexy and enticing vibe that a gentleman can exude. A sophisticated blend that he lights up as he sits in his favorite leather chair sipping his cup of finely aged vintage glass of brandy. Once the aroma hits the air, you know that daddy's home!
Top: Bergamot, Candied Orange
Heart: Geranium, Leather, Rosemary
Base: Oakmoss, Patchouli, Clove, Tobacco
Burn Time: Approx. 20-30 Hours
Wax: Premium Coconut & Soy Wax Blend. Wax blend is formulated for a clean burn.
Wicks: Double cotton flat braid wick 
Phthalate Free Fragrances
Reusable Containers
Handpoured in small quantities