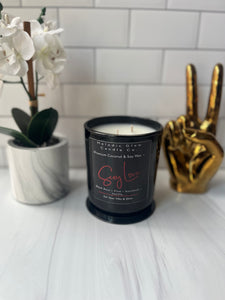 A sexy vibe inspired by the sultry sounds of none other than Neyo. This blend is the perfect vibe to set the tone for a nightcap. Whether you are with your lover, or  in for a night of self love. Either way let your favorite Pandora station play, and make sure to keep it sexy love. 
Top: Pink Peppercorn, Grapefruit, Plum
Middle: Black Rose, Cumin
Base: Vanilla, Patchouli, Labdanum
Burn Time: Approx. 15-20 Hours
Wax: Premium Coconut & Soy Wax Blend. Wax blend is formulated for a clean burn.
Wicks: Double cotton braided 
Phthalate Free Fragrances
Reusable Containers
Handpoured in small quantities